At Rise and Shine Cleaning we carry out a very thorough clean. Including not only all glass, but surrounding framework, sills and doors (including garages) as well.
The water Fed Pole method is great for difficult to reach windows. Water from the tap is processed by our van mounted purifying system (5 stages of filtration) to remove dissolved impurities such as calcium carbonate and salts.
Once pure, the water is stored in the systems tank ready for use. Pure water possesses a strong urge to return to its former impure state absorbing dirt left behind by the elements.
A stiff or soft bristled brush is used to scrub the dirt from the window, while at the same time the system pumps the pure water to the brush head. The pure water is jetted onto the glass to rinse away the dirt.
The Brush and water jets are mounted onto long-reaching glass and carbon fibre telescopic poles (known as water-fed poles) so that cleaning can be done at heights of up to 65ft from the safety of the ground.
Once the brush has scrubbed the dirt off the window and the pure water has rinsed the class cleaning is finished.
The droplets of pure water that remain on the glass are left to dry naturally. As the water is so pure it dries without leaving spots or smears.
CONVENTIONAL WINDOW CLEANING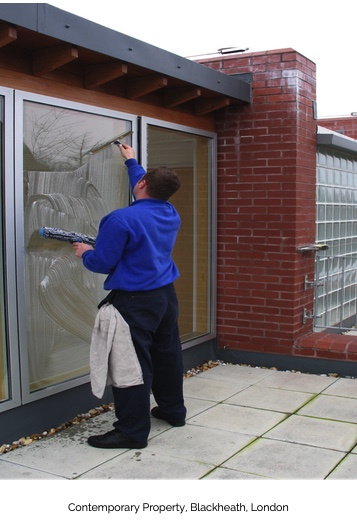 For all internal, and on occasion, some external window cleaning we use the conventional method. This is where a small amount of washing up liquid is applied to a wet applicator (or dolly). This is then moved over the glass covering it in soapy water. A squeegee (which consists of an angled band of rubber) is then swept across the glass by the window cleaner removing the surface film of dirt and water as it goes.
Each section of glass receives individual attention guaranteeing a thorough and complete clean every time. A fine cloth called a scrim is used to wipe away any dirty water left on the glass and framework. A heavy duty cloth called a swab is used to wipe way any water left on the sills.
Ladders, stepladders and telescopic poles are used (in accordance with 2005 HSE working at height guidelines) to reach higher windows.
Conventional Window Cleaning carried out with the usual Rise and Shine Cleaning attention to detail.