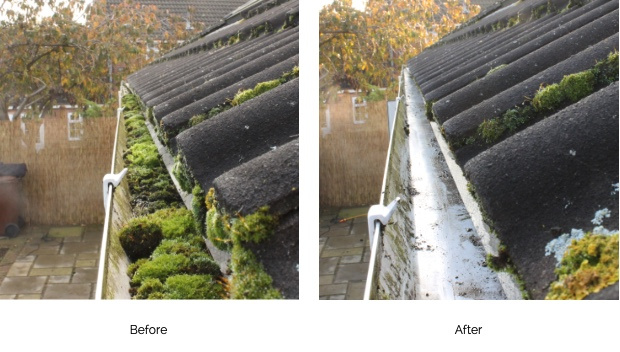 The purpose of guttering is to direct the flow of excess water away from your building and if they become blocked then this becomes impossible or even detrimental to the structure. The consequences are costly and can include the following:
Cracked foundations, caused by excessive water by the foundation wall.
Leaking roof, caused by ice-dams on gutter build up.
Treacherous pavements, caused by gutter overflow. Which can freeze during colder months creating hazardous icy stretches
Leaking basement and cellar areas, caused by flooding from overflowing gutters.
Cracked and sagging pavements and courtyard areas.

The highly efficient method that we use is the gutter vacuum, which is a carbon fibre pole that can be extended to reach gutter heights of 50ft, enabling us to professionally attend to the guttering of almost all domestic and commercial properties.
The gutter vacuum works by suctioning out the leaves, moss and mulch that can clog gutters if left unattended. This method eliminates both risk to the safety of our team and also the risk of damage to the guttering or brickwork.
It allows us to work without scaffolding, cherry pickers, ladders or other access equipment, which maintains the privacy of those in the building and guarantees to keep costs as low as possible.
We can also fit a camera to the end of our pole to carry out gutter and roof inspections. The camera relays live footage to a screen mounted to the bottom of the pole. This footage can be recorded onto an SD card ready for emailing to clients providing before and after footage.