Driveway and Patio Cleaning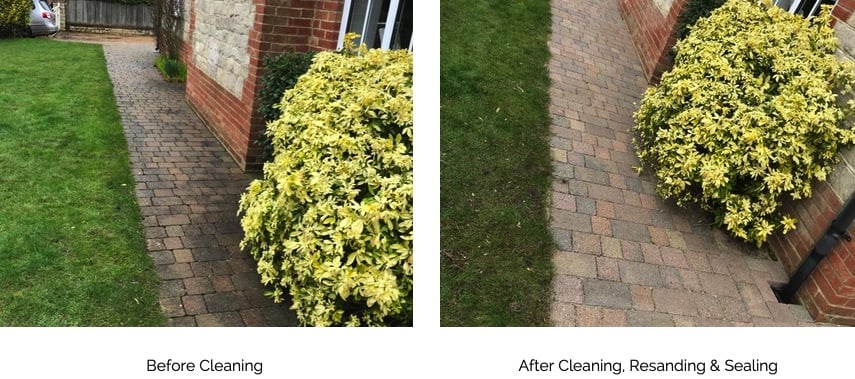 When a patio or driveway is first laid it can look great and enhance the appearance of any property. However, overtime as the surface is exposed to the weather elements, the inevitable damp and wet conditions encourage the growth of moss, algae and weeds to take root. Making some surfaces slippery, looking un-kept and unsightly.
To maintain a great looking driveway or patio the area needs to be cleaned thoroughly at least once a year. To provide a thorough clean we a Rise And Shine Cleaning follow a strict process to ensure that your driveways and patios are returned to their original appearance. We first remove any excess leaves or biological debris from the surface area with a stiff bristled broom, then using our commercial jet wash machines we clean the many types of surfaces (imprinted concrete, block paving, tarmac, different varieties of natural stone, paving and decking). Much care is taken to minimise any damage to plants ETC. All surrounding areas are misted down with water to avoid leaving any excess dirt on walls or fence panels.
After cleaning we can re-sand the gaps on the block paving using an appropriate coloured kiln dried sand to provide the finishing touch to the aesthetic. Alongside re-sanding we also offer a sealing service, sealing the area is done after the re-sanding process as it acts as a protective layer from the elements as well as preventing weed growth within the cracks. To seal the cracks we use the safest and effective chemicals provided by Sika which creates the tough and durable layer of protection needed to prevent weathering, oils spills and plant/weed growth from affecting the driveway/patio.

Chemicals:
High pressure washing alone will not always remove residual staining such as black spots, lichen and moss. In extreme cases we offer a Removal chemical made from a high strength formula to power through stains that the pressure washer cannot. This product works on a range of services such as driveways, patios, pathways ETC. The combination of the pressure washer and the black sport removal formula will ensure your patios and driveways will their best all year round!
Driveway and patio cleaning is carried out with the usual Rise and Shine Cleaning attention to detail.